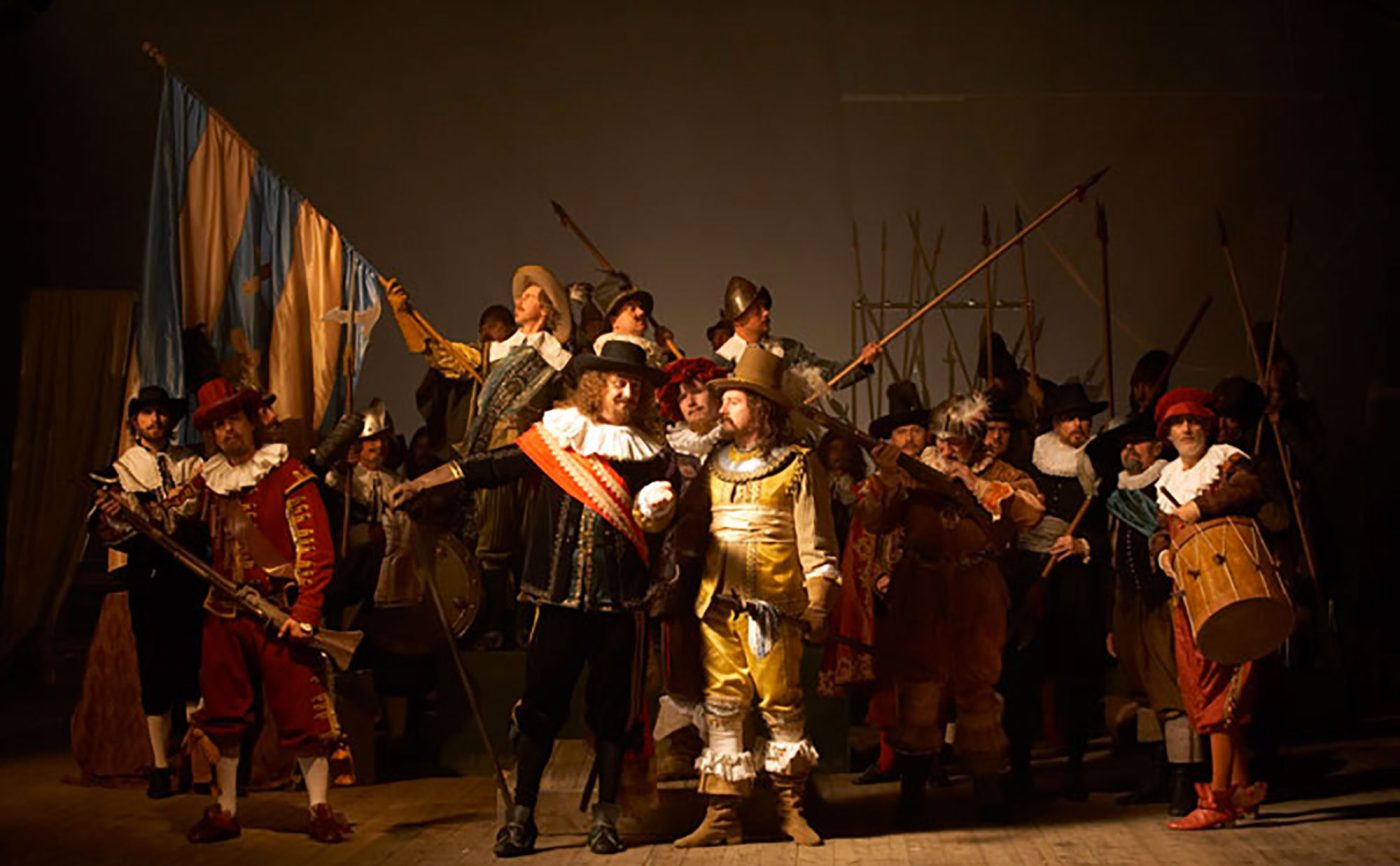 Peter Greenaway, Nightwatching, 2007
Seminar held on 7 November 2020 at the Fondazione Cassa di Risparmio di Jesi, as part of the cycle entitled Interventi intorno Chiari
Postmodern cinema
An excellent cinematic example of postmodernism can be found in the work of the British filmmaker Peter Greenaway. Apart from rare cases of more narrative events, most of his production is constituted as a continuous pictorial quotation, so much so that the spectator, in the absence of comprehension of those same quotations, will struggle to understand the film, being able to live only the aesthetic experience. In this case, the film becomes a cultured product, which, deprived of the popular narrative connotation, abstracts it from the social relationship. The filmmaker himself has declared in several interviews that his initial intention was to be a painter, then turning to the cinema, but understanding and using the cinema screen as a pictorial canvas.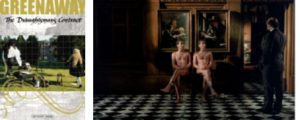 Peter Greenaway, The Mysteries of Compton House Garden, 1982 – Peter Greenaway, The Venus Zoo, 1985

Peter Greenaway, The Belly of the Architect, 1987 – Peter Greenaway, The Last Storm, 1991
This is a connotative aspect of all postmodern language, consisting only of the outer film, an epidermis concealing a non-existent organism and often not aspiring to any kind of meaning other than that of linguistic deflagration.
David Harvey (1935), in The Crisis of Modernity, points to Wim Wenders' The Sky Over Berlin (1945), an exponent with Herzog and Fassbinder of the new German cinema of the 1970s, as one of the greatest examples of postmodernism in cinema. Now it is interesting to note that in the first chapter of his trilogy, Alice in the Cities, the filmmaker acted without the contribution of a screenplay, the same process followed by Moebius (Jean Giraud 1938), maximum author of the already mentioned Metal Hurlant, in one of his most famous works, The Hermetic Garage. Once again the narrative deflagration becomes present in the true sense of the term, where everything takes place only on the plane of the present as expressed by Lyotardian thought, interrupting that temporal and design continuity that was typical of the Enlightenment. And indeed, the angel protagonist of The Sky Over Berlin decides to renounce his condition so as to be able to live, as he declares in the film, the now, now and now. And once again it is certainly no coincidence that Wenders wrote this film in collaboration with Peter Handke (1942), an exponent of the German literary avant-garde, for whose film he wrote:
"When the child was a child,
it was the time of these questions.
Why am I me, and why aren't you?
Why am I here, and why am I not there?
When does time begin, and where does space end?
Is life under the sun just a dream?
Isn't it only the appearance of a world before the world
What I see, hear and smell?
Is there really evil and really bad people?"
The writer, for his denialist views on the massacres that took place in Yugoslavia at the hands of the Serbs, was recently the subject of fierce criticism following his 2019 Nobel Prize for Literature.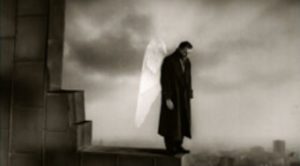 Wim Wenders, The Sky Over Berlin, 1987
Another coincidence is to be found in the work Incidenti (Accidents) by the Italian cartoonist Mattotti, formerly of the Gruppo Valvoline, who in this album visually quotes not only the film poster of In the course of time, another chapter of the Wendesian trilogy, but whose story is an open reference to Alice in the Cities. And certainly if we examine Mattotti's language, we can clearly see how his visual alphabet was formed, once again, on the pictorial experiences of the historical avant-garde and of a large part of French painting from the end of the 19th and the beginning of the 20th century.

Wim Wenders, Alice nelle città, 1973 – Lorenzo Mattotti, Incidenti, 1996
Remaining within the sphere of comics at the end of the 1980s and the beginning of the 1990s, one of the most striking experiences was undoubtedly the one that revolutionised the traditional structure of superhero comics. Authors such as McKean (Dave McKean 1963), Sienckiewicz (Bill Sienckiewicz 1958) and Ross (Alex Ross 1970) pushed the accelerator of material hybridizations and quotations even further, especially the first two, whose language became schizophrenic, constantly changing register within the same narrative story. Ross's language, on the other hand, is directed towards a figurative universe with a hyper-realist structure, with shifts towards the classicism of classical painting. After all, the superhero universe, made up of supermen similar to demigods, lends itself perfectly to this type of operation. This revolution was not only visually imposing, but it was more profound, going to dismantle what until then had been the typical narrative structure of the genre. Alan Moore (1959) and Neil Gaiman (1960) are the two writers who contribute most to this upheaval, with a perspective reversal that plunges those heroes, until then firmly good and necessarily in the right, into a condition of schizophrenia that shows their darkest sides. If the Jocker, Batman's arch-enemy, is certainly a madman, are we sure that Batman is not as mad with his bat suit and his belief that he is the champion of justice? And who can control superhumans? Who can assure us that they make good use of their superpowers? Then the metaphor becomes clearly political, social and economic.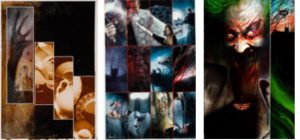 Dave McKean, Arkham Asylum, 1989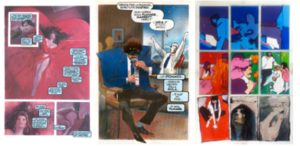 Bill Sienkiewicz, Elektra Assassin, 1986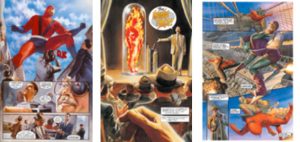 Alex Ross, Marvels, 1994
Bibliography
AA.VV., Desideri in fiorma di nuvole. Cinema e fumetto, Paisan di Prato (UD), Campanotto Editore, 1996.
AA.VV., Gulp! 100 anni a fumetti, Milano, Electa, 1996.
AA.VV., Nuovo fumetto italiano, Milano, Fabbri Editori, 1991.
ANTOCCIA Luca, Il viaggio nel cinema di Wim Wenders, Bari, Dedalo Edizioni, 1994.
ARGAN Giulio Carlo, L'arte moderna 1770/1970, [1970], Firense, Sansoni Editore, 1982.
ARNHEIM Rudolf, Arte e percezione visiva, [1954], Milano, Feltrinelli, 2002.
AUMONT Jacques MARIE Michel, L'analisi dei film, [1988], Roma, Bulzoni Editore, 1996.
BAIRATI Eleonora – FINOCCHI Anna, Arte in Italia, volume 3, [1984], Torino, Loescher Editore, 1991.
BARBIERI  Daniele, I linguaggi del fumetto, Milano, Bompiani, 1991.
BARILLI Renato, Il cilclo del postmoderno. La ricerca artistica degli anni'80, Milano, Feltrinelli, 1987.
BARILLI Renato, Informale oggetto comportamento 1. La ricerca artistica negli anni'50 e'60, Milano, Feltrinelli, 1979.
BONITO OLIVA Achille, L'ideologia del traditore – Arte, maniera, manierismo, [1976], Milano, Feltrinelli, 1981.
BORDONI Carlo FOSSATI Franco, Dal feuilleton al fumetto. Generi e scrittori della letteratura popolare, Roma, Editori Riuniti, 1985.
BOSCHI Luca, Frigo valvole e balloons. Viaggio in vent'anni di fumetto italiano d'autore, Roma-Napoli, Edizioni Theoria, 1997.
BOURRIAUD Nicolas, Il radicante, [2009], Milano, Postmedia, 2014.
BRANCATO Sergio, Fumetti. Guida ai comics nel sistema dei media, Roma, Datanews Editrice, 1994.
CALVESI Maurizio, Le due avanguardie. Dal Futurismo alla Pop Art, Bari, Laterza, 1991.
CARA Giovanni, Scrittori e popelin, Civitanova Marche, Gruppo Editoriale Domina, 2003.
CAROCCI Giampiero, Elementi di storia – L'Età delle rivoluzioni borghesi, volume 2, [1985],
CAROLI Flavio, Magico primario, Milano, Gruppo Editoriale Fabbri, 1982.
CASETTI Francesco DI CHIO Federico, Analisi del film, Milano, Bompiani, 1990.
COSTA Antonio, Il cinema e le arrti visive, Torino, Einaudi, 2002.
DEBENEDETTI Giacomo, Il Romanzo del Novecento, [1971], Milano, Garzanti Editore, 1989.
DEL GIUDICE Daniele, Staccando l'ombra da terra, Milano, Edizione CDE, 1994.
DEL GUERCIO Antonio, Storia dell'arte presente, Roma Editori Riuniti, 1985.
DE MICHELI Mario, Le avanguardie artistiche del Novecento, [1986], Milano, Feltrinelli, 1988.
DE VECCHI Pierluigi CERCHIARI Elda, Arte nel tempo, [1991], Milano, Bompiani, 1996.
DE VINCENTI Giorgio, Andare al cinema, Roma, Editori Riuniti, 1985.
DORFLESS Gillo, Ultime tendenze nell'arte d'oggi, [1961], Milano, Feltrinelli, 1985.
FAETI Antonio, Guardare le figure, [1972], Roma, Donzelli Editore, 2011.
FARNÉ Roberto, Iconologia didattica – le immagini per l'educazione dell'Orbis Pictus a Sesame Street, [2002], Bologna, Zanichelli Editore, 2006.
FAVARI Pietro, Le nuvole parlanti. Un secolo di fumetti tra arte e mass media, Bari, Edizioni Dedalo, 1996.
FRESNAULT-DERUELLE Pierre, I fumetti: libri a strisce, [1977], Palermo, Sellerio Editore, 1990.
FREZZA Gino, La scrittura malinconica. Sceneggiatura e serialità nel fumetto italiano, Firenze, La Nuova Italia, 1987.
GUGLIELMINO Salvatore, Guida al novecento, [1971], Milano, Editrice G. Principato s.p.a., 1982.
HARVEY David, La crisi della modernità, [1990], Milano, Il Saggiatore, 1997.
HONNEF Klaus, L'arte contemporanea, Köln, Taschen, 1990.
HUGHES Robert, Lo shock dell'arte moderna, Milano, Idealibri, 1982.
KUBLER George, La forma del tempo, [1972], Torino, Einaudi, 1989.
LYOTARD Jean-François, La condizione postmoderna, [1979], Milano, Feltrinelli, 1990.
LYOTARD Jean-François, Peregrinazioni. Legge, forma, evento, [1988], Bologna, Il Mulino, 1992.
MALTESE Corrado, Guida allo studio della storia dell'arte, [1975], Milano, Mursia, 1988.
MALTESE Corrado, Storia dell'arte in Italia 1785-1943, [1960], Torino, Einaudi, 1992.
MENNA Filiberto, La linea analitica dell'arte moderna, [1975], Torino, Einaudi, 1983.
MILA Massimo, Breve storia della musica, [1963], Torino, Einaudi, 1993.
MONTANER Josep Maria, Dopo il movimento moderno. L'architettura della seconda metà del Novecento, [1993], Roma, Laterza, 1996.
PALLOTTINO Paola, Storia dell'illustrazione italiana, [2010], Firenze, VoLo Publisher, 2011.
PELLITTERI Marco, Sense of comics, Roma, Castelvecchi, 1998.
PRIGOGINE Ilya, Le leggi del caos, Bari, Laterza, 1993.
RAFFAELI Luca, Il fumetto, Milano, il Saggiatore, 1997.
REY Alain, Spettri di carta, [1982], Napoli, Liguori, 1988.
RICCIARDI Enrica, Il cuore delle nuvole. Arte figurativa e fumetto, Paisan di Prato (UD), Campanotto Editore, 1996.
RICOEUR Paul, Tempo e racconto 2. La configurazione nel racconto di finzione, [1984], Milano, Jaca Book, 1994.
RICOEUR Paul, Tempo e racconto 3. Il tempo raccontato, [1985], Milano, Jaca Book, 1988.
SCARUFFI Piero, Guida all'avanguardia e New Age, Milano, Arcana Editrice, 1991.
VALLI Bernardo, Lo sguardo empatico. Wenders e il cinema nella tarda modernit´, Urbino, Edizioni Quattroventi, 1990.
VALLIER Dora, L'arte astratta, Milano, Garzanti, 1984.
WORRINGER Wilhelm, Astrazione ed empatia, [1908], Torino, Einaudi, 1975.
Websites
CAMPA Riccardo, Dal postmoderno al postumano: il caso Lyotard, in Letteratura-Tradizione, volume 42, 2008, https://ruj.uj.edu.pl/xmlui/handle/item/58854
http://www.treccani.it/vocabolario/https://it.wikipedia.org
https://it.wikipedia.org