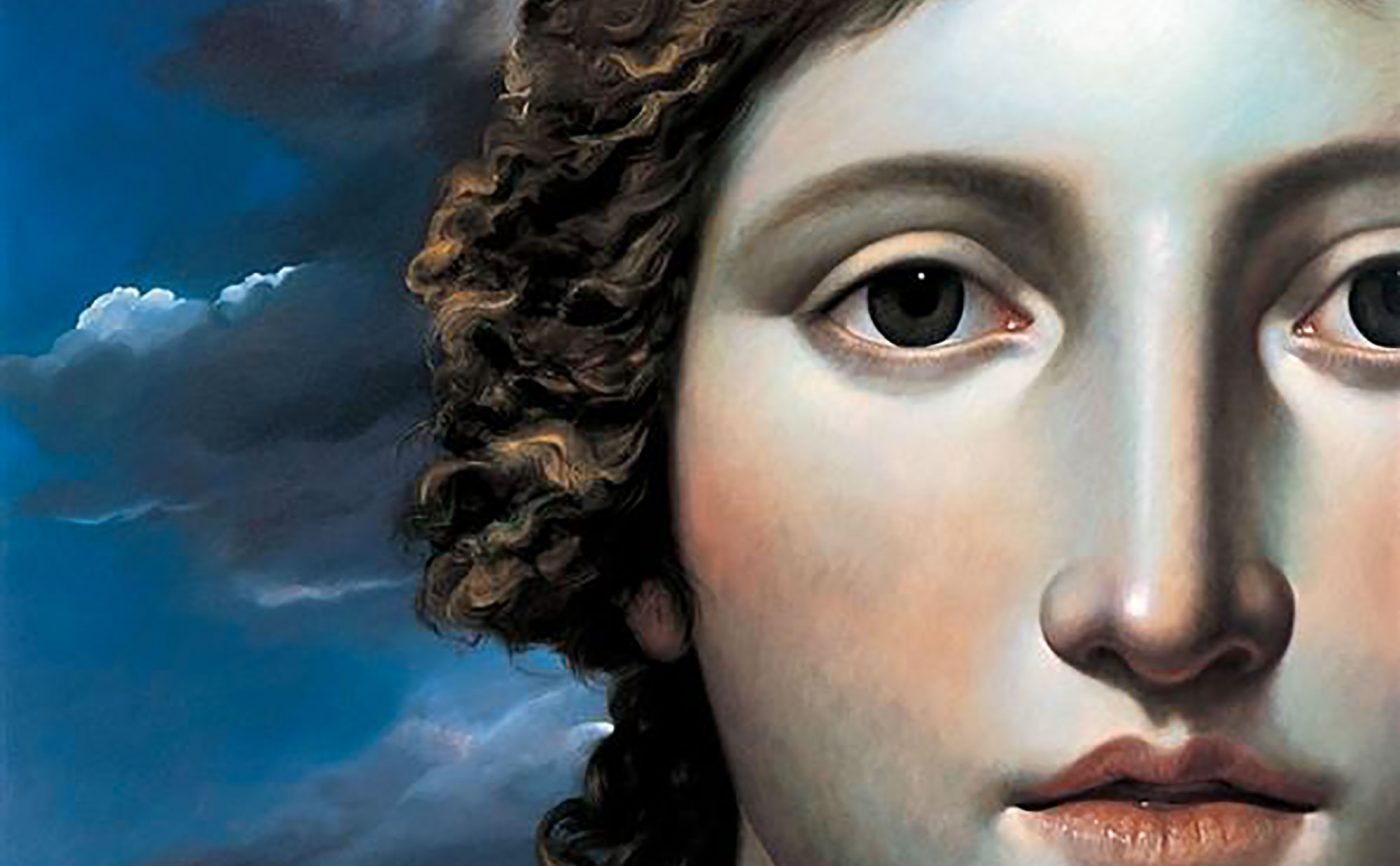 Carlo Maria Mariani, The city 1, 2001 (particolare)
Seminar held on 7 November 2020 at the Fondazione Cassa di Risparmio di Jesi, as part of the cycle entitled Interventi intorno Chiari
Postmodern painting
In those years, in fact, there was an overbearing return to painting, which in the United States was expressed precisely in the form of an impetuous Hyperrealism, while in Europe it took on the characteristics of citationism typical of post-modernity and which had one of its greatest examples in the Italian Transavanguardia, a group also led by a previous exponent of the Gruppo '63, Achille Bonito Oliva (1939). Many of the visual expressions of this group, as in the case of Chia (Sandro Chia 1946), Cucchi (Enzo Cucchi 1949) and Clemente (Francesco Clemente 1952) move towards a revival of Expressionism, while in the experience of Mimmo Paladino (1948) there is a greater presence of a primitivism that already constituted one of the distinctive characteristics of the historical avant-garde. In the case of De Maria (Nicola De Maria 1954), on the other hand, the reference is to the abstract experience, which was also a constituent of the historical avant-garde. Moreover, as the name of this current already declares, its intention is to transit through the languages of the avant-garde movements of the first thirty years of the 20th century.
Even before the trans-avant-garde movement, the Neo-Expressionists or New Savages had emerged in Germany. This experience, as the name suggests, is more closely aligned with the aesthetic positions of the original German Expressionism of the early 20th century.

Left: Enzo Cucchi, The Drift of the Vase, 1984-85. Centre: Francesco Clemente, Self-portrait, 1983. Right: Mimmo Paladino, The Evening Visitor, 1985

Sandro Chia, Tempest, 1985 – Nicola De Maria, Absolute freedom in the kingdom of flowers, 1988
The Transavanguardia movement was born in the second half of the 1970s, founded and theorised – the creator of the neologism itself – by Achille Bonito Oliva, who was already a member of the Gruppo '63. its exponents were Enzo Cucchi, Mimmo Paladino, Francesco Clemente, Nicola De Maria and Sandro Chia

Anselm Kiefer, Nigredo, 1984 – Georg Baselitz, Der Hirte, 1966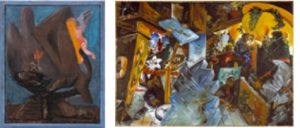 Markus Lüpertz, Poussin. Die Integration des Amors, 1989.  –  Jörg Immendorff, Café Deutschland XIII, 1982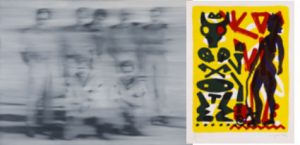 Gerard Richter, Marinai, 1966 – A. R. Penk, Ohne titel, 1981
Neo-Expressionism or Neuen Wilden (New Savages) is a group of painters who look back to the earlier German Expressionism of the beginning of the century and push the pictorial-expressionist violence even further.
Pictorial citationism also took on more classical characteristics, as in the case of the Italian Pittura Colta, whose references are aimed at an anachronistic Renaissance language and, for this reason, is also defined as Anachronism.

Alberto Abate, Thalassa, 1985 – Roberto Barni, The conspiracy, 1981

Ubaldo Bartolini, Landscape, 1984 – Carlo Bertocci, Nobility of sight, 1988

Lorenzo Bonechi, Convivio, 1986 – Franco Corrocher, Visions, 198 – Gian Paolo Dulbecco, Boarding for Kythera, 1984

Gerard Garouste, Still life, 1982-83 – Omar Galliani, The knight of the ellipse, 1983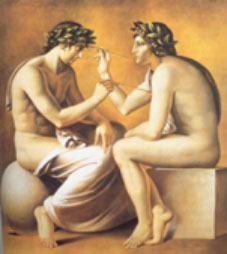 Carlo Maria Mariani, The hand obeys the intellect, 1983
Pittura Colta is a current theorised by the critic Italo Mussa that contrasts with Transavanguardia in the 1980s and that other critics will call by other names: anachronism (Maurizio Calvesi), hypermanierism (Italo Tomassoni). Its members are Alberto Abate, Roberto Barni, Ubaldo Bartolini, Carlo Bertocci, Lorenzo Bonechi, Marco Bussagli, Franco Corrocher, Cesare Di Narda, Gian Paolo Dulbecco, Gerard Garouste, Omar Galliani, Carlo Maria Mariani.
Bibliography
AA.VV., Desideri in fiorma di nuvole. Cinema e fumetto, Paisan di Prato (UD), Campanotto Editore, 1996.
AA.VV., Gulp! 100 anni a fumetti, Milano, Electa, 1996.
AA.VV., Nuovo fumetto italiano, Milano, Fabbri Editori, 1991.
ANTOCCIA Luca, Il viaggio nel cinema di Wim Wenders, Bari, Dedalo Edizioni, 1994.
ARGAN Giulio Carlo, L'arte moderna 1770/1970, [1970], Firense, Sansoni Editore, 1982.
ARNHEIM Rudolf, Arte e percezione visiva, [1954], Milano, Feltrinelli, 2002.
AUMONT Jacques MARIE Michel, L'analisi dei film, [1988], Roma, Bulzoni Editore, 1996.
BAIRATI Eleonora – FINOCCHI Anna, Arte in Italia, volume 3, [1984], Torino, Loescher Editore, 1991.
BARBIERI  Daniele, I linguaggi del fumetto, Milano, Bompiani, 1991.
BARILLI Renato, Il cilclo del postmoderno. La ricerca artistica degli anni'80, Milano, Feltrinelli, 1987.
BARILLI Renato, Informale oggetto comportamento 1. La ricerca artistica negli anni'50 e'60, Milano, Feltrinelli, 1979.
BONITO OLIVA Achille, L'ideologia del traditore – Arte, maniera, manierismo, [1976], Milano, Feltrinelli, 1981.
BORDONI Carlo FOSSATI Franco, Dal feuilleton al fumetto. Generi e scrittori della letteratura popolare, Roma, Editori Riuniti, 1985.
BOSCHI Luca, Frigo valvole e balloons. Viaggio in vent'anni di fumetto italiano d'autore, Roma-Napoli, Edizioni Theoria, 1997.
BOURRIAUD Nicolas, Il radicante, [2009], Milano, Postmedia, 2014.
BRANCATO Sergio, Fumetti. Guida ai comics nel sistema dei media, Roma, Datanews Editrice, 1994.
CALVESI Maurizio, Le due avanguardie. Dal Futurismo alla Pop Art, Bari, Laterza, 1991.
CARA Giovanni, Scrittori e popelin, Civitanova Marche, Gruppo Editoriale Domina, 2003.
CAROCCI Giampiero, Elementi di storia – L'Età delle rivoluzioni borghesi, volume 2, [1985],
CAROLI Flavio, Magico primario, Milano, Gruppo Editoriale Fabbri, 1982.
CASETTI Francesco DI CHIO Federico, Analisi del film, Milano, Bompiani, 1990.
COSTA Antonio, Il cinema e le arrti visive, Torino, Einaudi, 2002.
DEBENEDETTI Giacomo, Il Romanzo del Novecento, [1971], Milano, Garzanti Editore, 1989.
DEL GIUDICE Daniele, Staccando l'ombra da terra, Milano, Edizione CDE, 1994.
DEL GUERCIO Antonio, Storia dell'arte presente, Roma Editori Riuniti, 1985.
DE MICHELI Mario, Le avanguardie artistiche del Novecento, [1986], Milano, Feltrinelli, 1988.
DE VECCHI Pierluigi CERCHIARI Elda, Arte nel tempo, [1991], Milano, Bompiani, 1996.
DE VINCENTI Giorgio, Andare al cinema, Roma, Editori Riuniti, 1985.
DORFLESS Gillo, Ultime tendenze nell'arte d'oggi, [1961], Milano, Feltrinelli, 1985.
FAETI Antonio, Guardare le figure, [1972], Roma, Donzelli Editore, 2011.
FARNÉ Roberto, Iconologia didattica – le immagini per l'educazione dell'Orbis Pictus a Sesame Street, [2002], Bologna, Zanichelli Editore, 2006.
FAVARI Pietro, Le nuvole parlanti. Un secolo di fumetti tra arte e mass media, Bari, Edizioni Dedalo, 1996.
FRESNAULT-DERUELLE Pierre, I fumetti: libri a strisce, [1977], Palermo, Sellerio Editore, 1990.
FREZZA Gino, La scrittura malinconica. Sceneggiatura e serialità nel fumetto italiano, Firenze, La Nuova Italia, 1987.
GUGLIELMINO Salvatore, Guida al novecento, [1971], Milano, Editrice G. Principato s.p.a., 1982.
HARVEY David, La crisi della modernità, [1990], Milano, Il Saggiatore, 1997.
HONNEF Klaus, L'arte contemporanea, Köln, Taschen, 1990.
HUGHES Robert, Lo shock dell'arte moderna, Milano, Idealibri, 1982.
KUBLER George, La forma del tempo, [1972], Torino, Einaudi, 1989.
LYOTARD Jean-François, La condizione postmoderna, [1979], Milano, Feltrinelli, 1990.
LYOTARD Jean-François, Peregrinazioni. Legge, forma, evento, [1988], Bologna, Il Mulino, 1992.
MALTESE Corrado, Guida allo studio della storia dell'arte, [1975], Milano, Mursia, 1988.
MALTESE Corrado, Storia dell'arte in Italia 1785-1943, [1960], Torino, Einaudi, 1992.
MENNA Filiberto, La linea analitica dell'arte moderna, [1975], Torino, Einaudi, 1983.
MILA Massimo, Breve storia della musica, [1963], Torino, Einaudi, 1993.
MONTANER Josep Maria, Dopo il movimento moderno. L'architettura della seconda metà del Novecento, [1993], Roma, Laterza, 1996.
PALLOTTINO Paola, Storia dell'illustrazione italiana, [2010], Firenze, VoLo Publisher, 2011.
PELLITTERI Marco, Sense of comics, Roma, Castelvecchi, 1998.
PRIGOGINE Ilya, Le leggi del caos, Bari, Laterza, 1993.
RAFFAELI Luca, Il fumetto, Milano, il Saggiatore, 1997.
REY Alain, Spettri di carta, [1982], Napoli, Liguori, 1988.
RICCIARDI Enrica, Il cuore delle nuvole. Arte figurativa e fumetto, Paisan di Prato (UD), Campanotto Editore, 1996.
RICOEUR Paul, Tempo e racconto 2. La configurazione nel racconto di finzione, [1984], Milano, Jaca Book, 1994.
RICOEUR Paul, Tempo e racconto 3. Il tempo raccontato, [1985], Milano, Jaca Book, 1988.
SCARUFFI Piero, Guida all'avanguardia e New Age, Milano, Arcana Editrice, 1991.
VALLI Bernardo, Lo sguardo empatico. Wenders e il cinema nella tarda modernit´, Urbino, Edizioni Quattroventi, 1990.
VALLIER Dora, L'arte astratta, Milano, Garzanti, 1984.
WORRINGER Wilhelm, Astrazione ed empatia, [1908], Torino, Einaudi, 1975.
Website
CAMPA Riccardo, Dal postmoderno al postumano: il caso Lyotard, in Letteratura-Tradizione, volume 42, 2008, https://ruj.uj.edu.pl/xmlui/handle/item/58854
http://www.treccani.it/vocabolario/https://it.wikipedia.org
https://it.wikipedia.org